As we approach mid-year of 2019, the need for investment in the right technologies for business is becoming more apparent as is shown by the USA- China trade battle which has had a huge impact in the technology space. The digital marketing landscape that encompasses SEO, social media, PPC, content marketing and more is also witnessing a dramatic shift. Many people at some point could've dismissed artificial intelligence or visual search as gimmicks from the latest blockbuster science fiction film, but things are just about to get real.
There are many new digital marketing trends and strategies that are evolving in the current high-tech, Internet-connected era and businesses now need to use them to succeed in their efforts.
Here are eight digital marketing trends you must start thinking about to set yourself up for success in 2020.
1. Artificial Intelligence
Artificial intelligence is taking over the worlds simpler jobs. With AI you can analyze consumer behaviour and search patterns, utilizing data from social media platforms and blog posts to help businesses understand how users and customers find their products and services. For example, Facebook messenger bots can help you automate and optimize your customer service. According to Gartner, 25% of customer service will use chatbot technology by 2020, up from less than 2% in 2017. Businesses adopting AI in 2020 will be able to save costs and accelerate growth, getting an edge over their competitors.

2) Programmatic Advertising
Programmatic advertising refers to the use of AI to automate ad buying so you can target more specific audiences. Real-time bidding or auctions, for example, is a type of programmatic ad buying. This automation is much more efficient and fast, which means higher conversions and lower customer acquisition costs. It's changing the face of digital advertising so swiftly that, according to eMarketer, almost 90% of digital display ads in the U.S. will be programmatic by 2020.
3) Chatbots
Chatbots will continue to be an important part of digital marketing in 2019.
This AI-based technology uses instant messaging to chat in real-time, day or night, with your customers or site visitors. With 1.4 billion people interacting with chatbots, 80% of savvy businesses are already using or plan to use chatbots by 2020. And by 2022, chatbots will help businesses save over $8 billion per annum, especially in the banking and healthcare industries.
Many customers prefer interacting with chatbots as they are responsive, give answers promptly, accurately recall your entire buying history, and never lose patience. These virtual assistants offer outstanding customer service, meeting customers' expectations and automating repetitive tasks – which means you can focus on more important work.
4) Personalization
With the availability of data like purchase history, consumer behaviour and links clicked, custom content has never been easier. In fact, 96% of marketers believe that personalization advances customer relationships. As Kevin George, Head of Marketing at EmailMonks, says, "The future of e-mail is real-time, behaviour-based personalization. A study by Marketo shows that personalized, triggered e-mails based on behaviour are 3x better than batch-and-blast e-mails."
Businesses like Netflix and Amazon are already leveraging the power of personalization. Logging on to your Netflix account, for example, immediately shows you the evidence of this: the banner, carousels, order, artwork, text and search are all personalized for you.
5) Influencer Marketing
As Raghav Haran puts it, "Influencer marketing is a type of word-of-mouth marketing that focuses on using key leaders to drive your brand's message to the larger market…. Rather than marketing directly to a large group of consumers, you instead pay influencers to get out the word for you."
Using influencers is a very effective marketing tool that works to attract customers. Influencers can be anyone from celebrities and Instagram or YouTube stars to well-known bloggers and journalists who help spread the word about your business or product through their social channels.
Because people generally trust consumer opinions over corporate statements, frozen food retailer Iceland "ditched celebrities in favour of real people, tapping into a dedicated community of micro-influencers" like "real mums". After partnering with Channel Mum, Iceland's approval ratings increased from 10% to 80%, which was a 72% increase above the agreed digital KPIs.
6) Social Messaging Apps
Think social messaging apps are just for sending emojis to your friends? Consider these numbers:
1.3 billion monthly users are active on Facebook Messenger
2 billion messages are sent between people and businesses on Facebook Messenger every month
WhatsApp has 1.3 billion monthly active users
55 billion messages are sent via WhatsApp every day
WhatsApp, Facebook Messenger, and WeChat have more combined users than Facebook or YouTube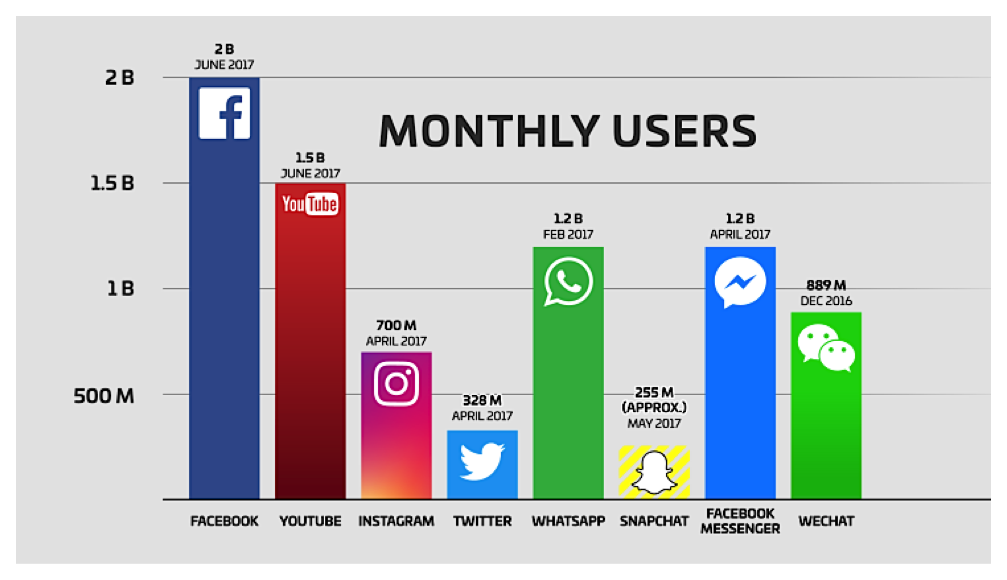 These statistics show the growing popularity of social messaging apps for business purposes. Since people are spending more of their time messaging each other, it makes sense to market your company's services where your potential customers are hanging out.
Social messaging apps can be very useful in sending messages to customers directly, as they allow personalization (another trend) and add value to the users' experience. This differs from the messenger chatbots we discussed earlier. You're actually able to market to customers using messaging apps now!
7) Voice Search & Smart Speakers
The increasing use of voice search has made it important for companies to rethink their digital marketing strategies in 2019.
50% of all searches will be voice searches by the year 2020
20% of mobile queries on Google are voice searches
25% of all Bing searches are voice searches
Voice search plays an important role in providing all the relevant information that people are searching for through audio content. Artificial Intelligence is getting smarter and the number of errors made by voice assistants like Alexa, Siri and Google have reduced.
Smart speakers like Alexa and Google Home are also on the rise: 39 million Americans use smart speakers and 65% of them say they wouldn't want to go back to life without their voice-controlled assistant.
Keep in mind that not only will more companies produce audio content in the hopes of gaining brand awareness (so you should, too), but ads are likely to come in soon. Alexa will tell you the answer to your question along with a "word from her sponsor". Which means you'll be able to purchase voice ad space – like Google AdWords, but for home speakers.
8) Social Media Stories
With the growing popularity of social media "stories," it is important for marketers to consider this format in their digital marketing strategy. Savvy marketers can even make use of live video, one of the most profitable social rollouts to date, to promote engagement and brand awareness.
First Snapchat came out with the concept of "My Story," then Instagram and Facebook stories were introduced, and now YouTube has unveiled their own story format, "Reels."
Since stories disappear after a set period of time, this is a great opportunity for marketers to make good use of FOMO (fear of missing out). You can feature your employees in the Stories, show the story behind the making of a product or ask for reviews about your products and services.
This definietly all there is to look out for as we prgress in 2019 and get into 2020, but these are some sure trends that will have an impact on businesses in the next 2 years and preparing for this impact now is very important. Till next time!
Credit: Goes to Source